7/2/2018
Categories:
Tags:
One of the great liabilities of history is that all too many people fail to remain awake through great periods of social change. Every society has its protectors of status quo and its fraternities of the indifferent who are notorious for sleeping through revolutions. Today, our very survival depends on our ability to stay awake, to adjust to new ideas, to remain vigilant and to face the challenge of change.

--Dr. Martin Luther King, Jr., "The World House,"
WOKE \ ˈwōk \
Noun
aware of and actively attentive to important facts and issues (especially issues of racial and social justice).
---
Our mission at the Houston Public Library is to link you to the world. One of the reasons we're dedicated to that mission? We know how hard it is, sometimes, to get a grip on the state of the global affairs. There's no denying that we're living through a turbulent era. As technology makes the world smaller, it also makes it faster. And even though all the information you'd ever want to know is within reach--theoretically, at least--staying woke nowadays can feel like reaching your hand out and just brushing the wall of a wormhole as you're hurtling down it at the speed of light. 
So we're helping you get on the path to global wokeness with this reading list of important journeys and stories from around the world.
---
No turning back: Life, loss, and hope in wartime Syria by Rania Abouzeid
From prize-winning journalist Rania Abouzeid comes a tale of tragedy: the dramatic stories of four young people seeking safety and freedom in a shattered country. Extending back to the first demonstrations of 2011, No Turning Back dissects the tangle of ideologies and allegiances that make up the Syrian conflict. As protests ignited in Daraa, some citizens were brimming with a sense of possibility. A privileged young man named Suleiman posted videos of the protests online, full of hope for justice and democracy. A father of two named Mohammad, secretly radicalized and newly released from prison, saw a darker opportunity in the unrest. When violence broke out in Homs, a poet named Abu Azzam became an unlikely commander in a Free Syrian Army militia. The regime's brutal response disrupted a family in Idlib province, where a nine-year-old girl opened the door to a military raid that caused her father to flee. As the bombings increased and roads grew more dangerous, these people's lives intertwined in unexpected ways. Rania Abouzeid brings readers deep inside Assad's prisons, to covert meetings where foreign states and organizations manipulated the rebels, and to the highest levels of Islamic militancy and the formation of ISIS. Based on more than five years of clandestine reporting on the front lines, No Turning Back is an utterly engrossing human drama full of vivid, indelible characters that shows how hope can flourish even ami one of the twenty-first century's greatest humanitarian disasters.
A thousand sighs, a thousand revolts: Journeys in Kurdistan by Christiane Bird
Though the Kurds played a major military and tactical role in the United States' recent war with Iraq, most of us know little about this fiercely independent, long-marginalized people. Now acclaimed journalist Christiane Bird, who riveted readers with her tour of Islamic Iran in Neither East Nor West , travels through this volatile part of the world to tell the Kurds' story, using personal observations and in-depth research to illuminate an astonishing history and vibrant culture.
For the twenty-five to thirty million Kurds, Kurdistan is both an actual and a mythical place: an isolated, largely mountainous homeland that has historically offered sanctuary from the treacherous outside world and yet does not exist on modern maps. Parceled out among the four nation-states of Iraq, Turkey, Syria, and Iran after World War I, Kurdistan is a divided land with a tragic history, where the indomitable Kurds both celebrate their ancient culture and fight to control their own destiny. Occupying some of the Middle East's most strategic and richest terrain, the Kurds are the fourth-largest ethnic group in the region and the largest ethnic group in the world without a state to call their own.
Whether dancing at a Kurdish wedding in Iran, bearing witness to the destroyed Kurdish countryside in southeast Turkey, having lunch with a powerful exiled agha in Syria, or visiting the sites of Saddam Hussein's horrific chemical attacks in Iraq, the intrepid, insightful Bird sheds light on a violently stunning world seen by few Westerners. Part mesmerizing travelogue, part action-packed history, part reportage, and part cultural study, this critical book offers timely insight into an unknown but increasingly influential part of the world. Bird paints a moving and unforgettable portrait of a people uneasily poised between a stubborn past and an impatient future.
Kingdom of olives and ash, ed by Michael Chabon and Ayelet Waldman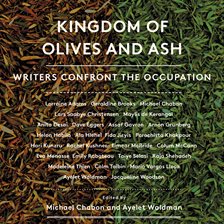 A groundbreaking collection of essays by celebrated international writers bears witness to the human cost of fifty years of Israeli occupation of the West Bank and Gaza.
In Kingdom of Olives and Ash, Michael Chabon and Ayelet Waldman, two of today's most renowned novelists and essayists, have teamed up with the Israeli NGO Breaking the Silence--an organization comprised of former Israeli soldiers who served in the occupied territories and saw firsthand the injustice there--and a host of illustrious writers to tell the stories of the people on the ground in the contested territories. Through incisive, perceptive, and poignant essays from esteemed storytellers like Colum McCann, Jacqueline Woodson, Colm Toibin, Geraldine Brooks, Dave Eggers and Hari Kunzru, readers will gain unique insight into the narratives behind the litany of grim destruction broadcasted nightly on the news, as well as deeper understanding of the conflict as experienced by the people who live in the occupied territories. Together, these stories stand witness to the human cost of the occupation.
The epic city: The world on the streets of Calcutta by Kushanava Choudhury 
Everything that could possibly be wrong with a city was wrong with Calcutta.
When Kushanava Choudhury arrived in New Jersey at the age of twelve, he had already migrated halfway around the world four times. After graduating from Princeton, he moved back to the world which his immigrant parents had abandoned, to a city built between a river and a swamp, where the moisture-drenched air swarms with mosquitos after sundown.
Once the capital of the British Raj, and then India's industrial and cultural hub, by 2001 Calcutta was clearly past its prime. Why, his relatives beseeched him, had he returned? Surely, he could have moved to Delhi, Bombay or Bangalore, where a new Golden Age of consumption was being born.
Yet fifteen million people still lived in Calcutta. Working for the Statesman, its leading English newspaper, Kushanava Choudhury found the streets of his childhood unchanged by time. Shouting hawkers still overran the footpaths, fish-sellers squatted on bazaar floors; politics still meant barricades and bus burnings, while Communist ministers travelled in motorcades. Sifting through the chaos for the stories that never make the papers, Kushanava Choudhury paints a soulful, compelling portrait of the everyday lives that make Calcutta.
The islamic enlightenment: The struggle between faith and reason, 1798 to modern times by Christopher de Bellaigue
A revelatory and game-changing narrative that rewrites everything we thought we knew about the modern history of the Islamic world. With majestic prose, Christopher de Bellaigue presents an absorbing account of the political and social reformations that transformed the lands of Islam in the nineteenth and early twentieth centuries.  Beginning his account in 1798, de Bellaigue demonstrates how Middle Eastern heartlands have long welcomed modern ideals and practices, including the adoption of modern medicine, the emergence of women from seclusion, and the development of democracy. With trenchant political and historical insight, de Bellaigue further shows how the violence of an infinitesimally small minority is in fact the tragic blowback from these modernizing processes. 
The future is history: How totalitarianism reclaimed Russia by Masha Gessen
 In The Future Is History, award-winning journalist Masha Gessen follows the lives of four people born at what promised to be the dawn of a new democracy--the new, post-Soviet Russia. Each of them came of age with unprecedented aspirations. They were future entrepreneurs, activists, thinkers, and writers, ready to take the world by storm. Gessen charts their paths against the machinations of the regime that would crush them all, and against the war it waged on understanding itself, which ensured the unobstructed reemergence of the old Soviet order in the form of today's terrifying and seemingly unstoppable mafia state. Powerful and urgent, The Future Is History is a cautionary tale for our time and for all time.
The souls of China: The return of religion after Mao by Ian Johnson
The Souls of China tells the story of one of the world's great spiritual revivals. Following a century of violent anti-religious campaigns, China is now filled with new temples, churches, and mosques--as well as cults, sects, and politicians trying to harness religion for their own ends. Driving this explosion of faith is uncertainty--over what it means to be Chinese and how to live an ethical life in a country that discarded traditional morality a century ago and is searching for new guideposts.
Ian Johnson first visited China in 1984; in the 1990s he helped run a charity to rebuild Daoist temples, and in 2001 he won a Pulitzer Prize for his coverage of the suppression of the Falun Gong spiritual movement. While researching this book, he lived for extended periods with underground church members, rural Daoists, and Buddhist pilgrims. Along the way, he learned esoteric meditation techniques, visited a nonagenarian Confucian sage, and befriended government propagandists as they fashioned a remarkable embrace of traditional values. He has distilled these experiences into a cycle of festivals, births, deaths, detentions, and struggle--a great awakening of faith that is shaping the soul of the world's newest superpower.
--Carrie R., Central Library